WP Engine Web Hosting Reviews
I earn commissions if you shop through the links on this page.
Name: WP Engine WordPress
Website: WP Engine hosting, perfected.
Price/Plans: Startup plan-$25/month, Growth plan-$115/month, Scale plan-$290/month

Company Name: WP Engine
WP Engine Overview
The WP engine is one of the best Web hosting companies in the market that offers managed hosting. It provides a secure and fast loading environment for your website. WP Engine is available in three basic plans, but for more specialized functionality of your website, you get an option of upgrading to a custom plan. It has a great support system and manages all the technical performance of your site.
How to set up your WP Engine hosting server
To set up a new site in WP Engine, you start by adding a location. A site has three environments; production, staging, and development. You add your website to the admin user level. After adding a website, it will be time to add an environment, which is the individual installation of WordPress. The setting is assigned to either production, staging, or development.
You then receive an email to finish the setup of your admin-level user. Set up your user and login to your website. Then choose a theme for your site. When you log in to your website, it is usually in the default setting. WP Engine offers 35 premium Studio Press themes and Genesis Framework, where you can select your themes for free.
After adding themes, add content to your website. You either choose posts or pages from the WP admin dashboard. Then add plugins to your site. Plugins are useful in adding superior functionality. Since there are thousands of plugins available, you should check for reviews and ratings of the best that will help you get the job done. Finally, it will be time to go live. To take your website to live, it involves three steps. First, add your custom domain to the user portal, update the WordPress URL setting, and finally set up DNS.
Type of Hosting
WP engine is a WordPress specific web host that offers managed plans. It uses CDN (content delivery network) combined with Google Cloud platform for most of its platforms.
What WP Engine Web hosting offers
Support
WP Engine has an excellent support team and boasts over 97% customer satisfaction with thousands of customer interactions per day. They provide support 24/7 to all customers via live chat. WP Engine also offers phone support 24/7 to all plans, excluding startup plans. But when you have an issue that cannot be resolved through live chat or over the phone, the support staff creates an internal support ticket for you. The premium and Enterprise customers receive a one on one on boarding Experience.
Server OS
WP Engine is a WordPress hosting that uses Linux as its server OS. This Web hosting has its PHP, where it runs its WordPress. A WordPress usually runs on a PHP that is typically hard to configure in the window and typically faster than Windows.
Emails
WP Engine does not support email hosting. The default Email functionality on this web hosting is usually limited. For regular emails such as password resetting, it will not have any issues sending but will not support a full email campaign. For advanced email functionality, scalability, and monitoring, WP Engine usually suggests using a 3rd party email host. Some 3rd party email hosts you can utilize are Gmail, SendGrid, or Mail chimp. Such email hosts have their Email API.
Bandwidth limits
WP Engine Web Hosting has different bandwidth limits in other plans. For a startup plan, it has a bandwidth of 50 GB per month. In a Growth plan, it has a bandwidth limit of 200 GB per month. In a scale plan, the bandwidth is 500 GB per month. While custom enterprise plans have a bandwidth of 400 GB and more depending on your needs.
Data
The WP engine only allows the user to use only one MySQL database on every website. As a result, it does not allow the user to set their site analytics, which requires another separate database to run on. However, as for the data limit, it does not have any limit. The. Challenge comes when the user exceeds 2 GB. In such a case, help from the technical engineer is required to help you improve your database's performance.
What is the storage Limit?
WP Engine offers different storage spaces on the three plans. The startup plan has a storage space of 10 GB; the growth Plan has a storage space of 20 GB. At the same time, the scale plan has a storage space of 30 GB. The large businesses and mission-critical sites that enroll for a Custom plan have a storage space of 100 GB to 1 TB. This storage limit is more than enough for all websites except those specializing in activities like video streaming. Every customer in each place can upgrade to the next plan with a storage limit convenient for their needs.
Uptime (SLA)
The WP Engine web hosting guarantees its customers a guaranteed uptime of 99.95%, excluding any excused Downtime such as scheduled maintenance, Emergency maintenance, Beta services, and many more. These terms are included in their SLA. You also receive 5% credit for your monthly fee if you encounter one hour or more of downtime.
Backend managed or unmanaged.
When you are using a WP Engine, it is the company's responsibility to manage the performance, security, and uptime of your site. However, it is your sole responsibility as the site owner to choose the environment you want to operate, to set the themes, the plugins, and the plans you think will suit you best.
Tools & Training
WP Engine features several tools that enhance its effectiveness. It has theme tools, Studio Press theme downloads, and Genesis Framework that provides you with free themes for your site. The Smart Plugin Manager tool keeps your site updated, while Page Performance tests your site's performance.
Pro and cons
Pros
When using a WP engine, the user is saved from bothering on security issues.
It does not have any limitation on technology, thus enabling the user to explore new ideas.
It helps the user in the management of their word press.
Cons
Slightly expensive.
It does not support other Non-WordPress Platforms.
Final Verdict
WP Engine is one of the best web hosting company's you can consider. It helps in the technical management of your WordPress, making the operation hassle-free. It offers a free 60 days trial and has excellent customer support. However, it is slightly expensive compared to other WordPress platforms.
WP Engine – Get 3 months free on annual plans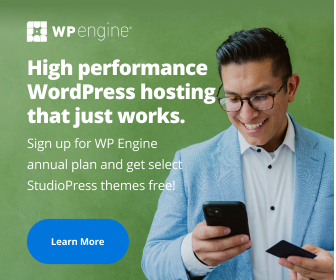 ---
There you have it ladies and gentlemen, a review of WP Engine WordPress hosting; written by GMathew at Hirewriters.com
As you can see he does a fine job, so if you need a review written at a reasonable price, head over there now and take a look!
Here is my article on How to Build a Website Easy – In Less Than 5 Minutes
and here is a comparison of my favorite webhosting provider against WPengine: