Webflow Review
I am an affiliate of Webflow.
Name: Webflow
Website: https://webflow.com/
Price: FREE – $36/mo – and up!
Owners: Vlad Magdalin (CEO), Bryant Chou (CTO), & Sergie Magdalin (CPO)
Overall Rank: 95 out of 100
Webflow, Product Overview
It makes me think of Photoshop for Websites. A graphical application that allows you a lot of flexibility in designing your websites/pages to look the way you want them to look.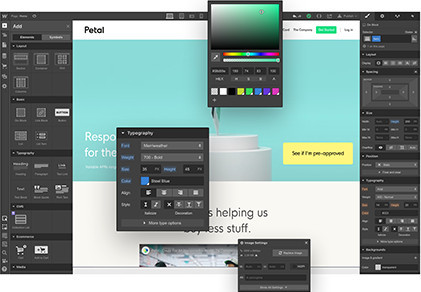 The Good & the Bad
The Good:
PRO #1: If you are experienced at building websites then you can build production ready websites without coding.
PRO #2: Powered by Amazon Web Services; fast, reliable hosting that scales.
PRO #3: 100s of video courses available to show you how to build your own website.
The Bad:
CON #1: Can be expensive at the higher business levels.
CON #2: Either need expertise building websites, have to hire a website builder, or spend hours learning how to use the website builder.
CON #3: Its only a website builder and hosting service.
Who is Webflow For?
Freelancers and Agencies
Marketing Teams
Business Owners
Prototyping
Webflow is for those who are in the business of building websites for businesses.
Webflow Tools & Training
The tools and training available include:
100+ Custom Templates
Webflow 101: The Video Couse
Over 6 hours of Beginner Courses and over 10 hours of Advanced Courses
Over 10 hours of Featured Courses, to include a 6-hour Freelance Web Design Boot Camp
Webflow Support
There is a Support web page with chat available form 0800-1800 Pacific Time, Monday-Friday. They try to respond within 24-48 business hours.
In addition, there is a community of 75,000+ members that have frequent events, a web forum, several free downloadable ebooks, and you can hire a freelancer.
Webflow Price
Site Plans / Ecommerce Plans

Basic – $15/mo – simple site not requiring CMS
CMS – $20/mo – blog or content drivin site
Business – $45/mo – higher traffic marketing site or blog
Enterprise – contact for details

Account Plans

Starter – Free – able to build & stage  2 projects
Lite – $24/mo – export code & unlock more pages for unhosted projects (10 projects)
Pro – $42/mo – active freelancers & designers that need more projects & premium features (unlimited projects)
My Final Opinion of Webflow
I think this would be a great product for freelancers, designers, and businesses. WordPress combined with a webhosting service will not give you what you need at a professional business level.
However, if you are a self-employed person or someone who wants to start their own online blog or online affiliate marketing business and want to learn how to do it step-by-step, then this is not what this service is built to do.
Name: Webflow
Website: https://webflow.com/
Owners: Vlad Magdalin, Bryant Chou, and Sergie Magdalin
Price: $15-45+ per month
Overall Value Rank: 95 out of 100
---
Looking for other options?
Here is my article on How to Build a Website Easy – In Less Than 5 Minutes
and here is a comparison of my favorite webhosting provider against webflow: