Rocket Net Review
I earn commissions if you shop through the links on this page.
Name: Rocket.net WordPress Hosting
Website: Rocket.net WordPress Hosting
Price/Plans: From $25/month Starter Plan to $166/month Agency Plan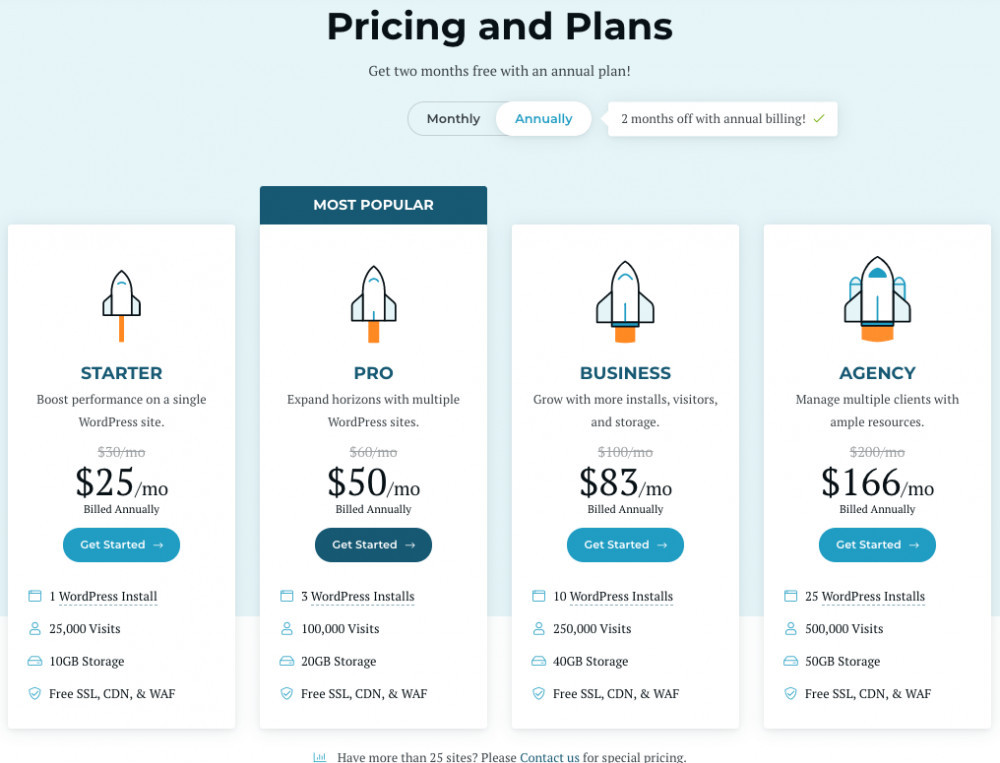 Company Name: Rocket.net
Rocket.net WordPress Review
The primary focus for Rocket.net is making WordPress easy to manage and decrease response time. Everything revolves around those two ideas as they are what is important to the customer. However, it is just that, a WordPress hosting site and does not provide email services for your business.
Key Features:
Free Enterprise CDN
Built-in Caching
Google Font Optimization
Brotli Compression
Website Firewall (WAF)
Malware Scanning
Malware Patching
Brute-force Protection
Weak Password Protection
Automated Bot Protection
Simple Control Panel
Automatic WordPress Updates
Enterprise Servers
Daily Backups
Global Edge Network
99.99% Uptime
24/7 Support
How to set up your Rocket.net WordPress site
After choosing and paying for your plan, you will need to go to the main dashboard and click the "Create Site" button. You will then be asked to provide a WordPress website name and domain. Following that you will choose a location that is physically nearest your customer for the server to be hosted. There are 20 hosting servers around the world from which to choose.
The next step will be to setup the administrative information for your WordPress site. You will provide an administrator username, password, and email address. Select your native language and, if applicable, select multisite support and/or WooCommerce.
Following that, you will go to the new dashboard for your new website and domain. You will click the "Get Started" button and follow the steps on the left hand side of the page. Before you know it, you will be adding content to your very own site.
Watch this video to see how it was setup:
Type of Hosting
Rocket.net offers three types of hosting services: Managed WordPress Hosting, WooCommerce Hosting, and Resell Managed WordPress.
What Rocket.net WordPress offers
Support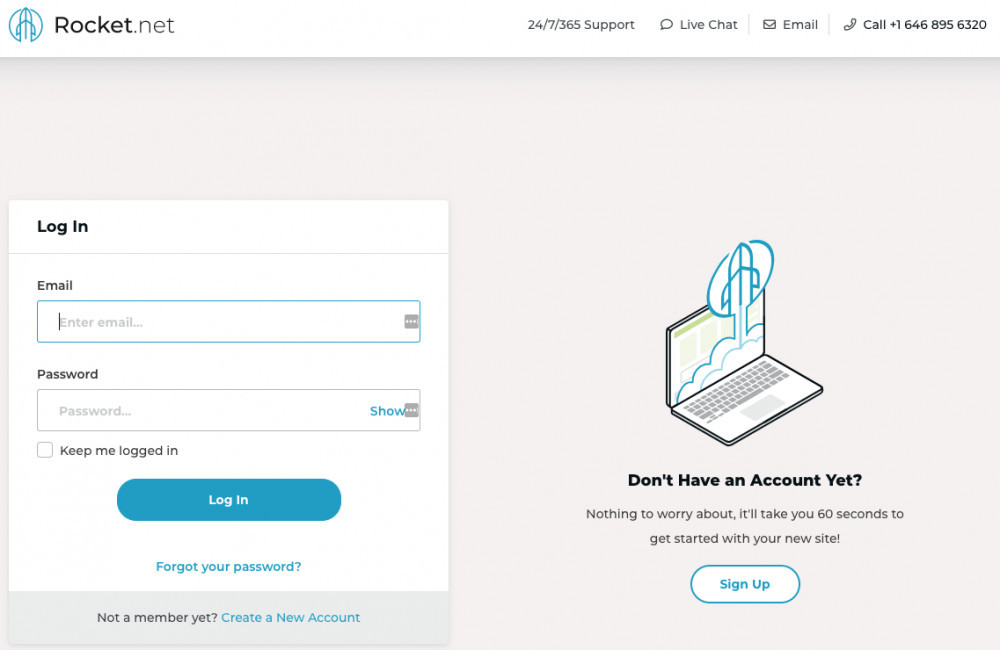 If you go to the support link on the bottom of the page it will take you to the above page. You will note that on the top of all pages, not just this one, are three ways of contacting support.
Round the clock, every day Live Chat
Phone support, for quick questions or updates.
Email, for more complicated issues that can be submitted as a ticket.
Server OS
Since Rocket.net is running MySQL it is a Unix-based Operating System. The servers feature SSD Drives, 256 GB RAM, 16 cores and guaranteed resources depending on the plan you choose.
Email
Email is not provided by Rocket.net
Bandwidth limits
The bandwidth limit range from 50 GB with the Starter plan up to 500 GB with the Agency plan.
Data
Like similar WordPress hosting sites, Rocket.net also has limits to the number of visits based on the plan. They start from 25K visits per month and go up to 500K visits per month. Something I noticed here I don't like. That is as the plan prices increase so do the number of WordPress installs. That, in and of itself is not the concern, that is to be expected.
What concerns me is that if you are building additional websites with your upgraded plans you are only getting about the same number of website visits per month.
1 install – 25K visits
3 installs – 100K visits = 33K visits per site
10 installs – 250K visits = 25K visits per site
25 installs – 500K visits = 20K visits per site
So, this is something I would ask before purchasing a plan to ensure that I am interpreting these numbers correctly or not.
What is the storage Limit?
Storage space, like the data, does not scale like I thought it should. It starts at 10GB, which should be plenty for a hobbyist who is only making a blog site. However, for the next plan it goes up to 20GB with 3 installs available. Then the storage doubles to 40 GB but the installs more than triple to 10 installs. Finally, storage only goes up an additional 10GB to 50 GB with an additional 15 WordPress installs. It doesn't add up here, either.
Uptime (SLA)
As speed and convenience are their primary focus, it doesn't surprise me that they advertise 99.99% uptime.
Backend managed or unmanaged.
The backend at Rocket.net is completely managed by them. This goes along with their slogan on their "About" page, "Managed WordPress hosting on the world's fastest Time to First Byte platform."
Tools & Training
I'm not seeing any training on this site, whatsoever. As far as tools go they have hands-free WordPress site migrations, on-demand backups, multi-user support, free staging installs, Git integration, file manager, visitor analytics, and cron jobs.

What are the upgrade options?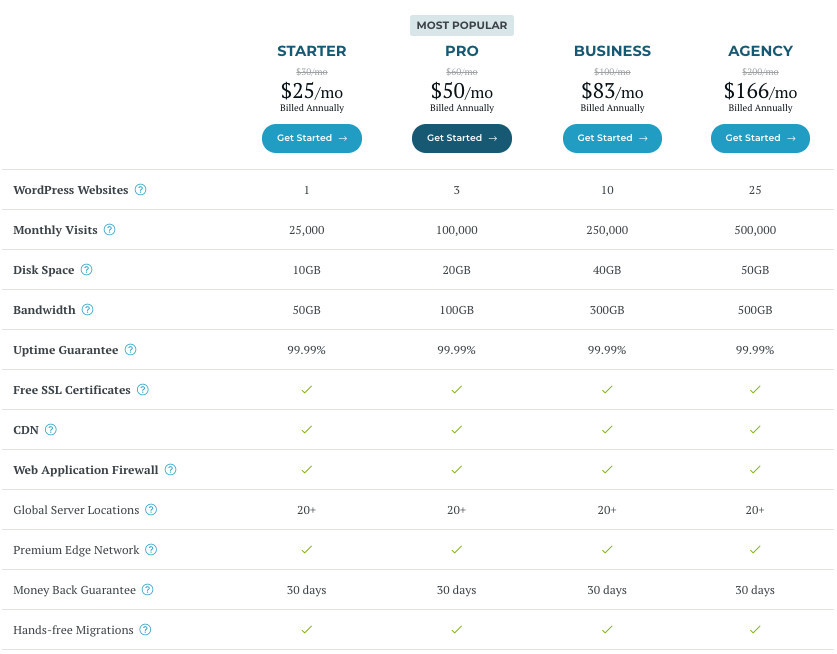 Pros and Cons
Pros
WordPress comes with an optimized installation
WordPress and its plugins and themes are automatically updated
There is support available 24/7
Website is cached around the world for speed enhancement
Cons
No Email service
Visitor throughput and data storage do not scale with the cost
Final Verdict
Rocket.net looks like it can deliver in speed for accessing webpages based on their server hosting model. It also seems to be very easy to use for the inexperienced user, including hands free migration and 24/7 support.
The one question that remains is the scalability issue I discussed above and perhaps this would only concern big businesses. They do have pricing plans available upon request for special needs, so be sure to contact them with any concerns you would have as a large business.
WordPress Deployed and Cached To Over 200 Locations With Always-On Website Security Tools.
---
There you have it ladies and gentlemen, a review of Rocket.net WordPress hosting; written by me.
If you don't have the time to write your own articles on your WordPress site, I would suggest looking into
Here is my article on How to Build a Website Easy – In Less Than 5 Minutes
and here is a comparison of my favorite webhosting provider against Rocket.net: