I earn commissions if you shop through the links on this page.
Name: Pressidium WordPress Hosting
Website: Pressidium® Enterprise WordPress Hosting
Price/Plans: Plans start from the Personal Plan at $42/month up to $500/month with their Business Plus Plan. It looks like their first plan starts at where most of the others second plan is at about the same price as the others' 2nd plan. However, they have arrows on each side of the plan for "I need a smaller plan" and "I need a larger plan."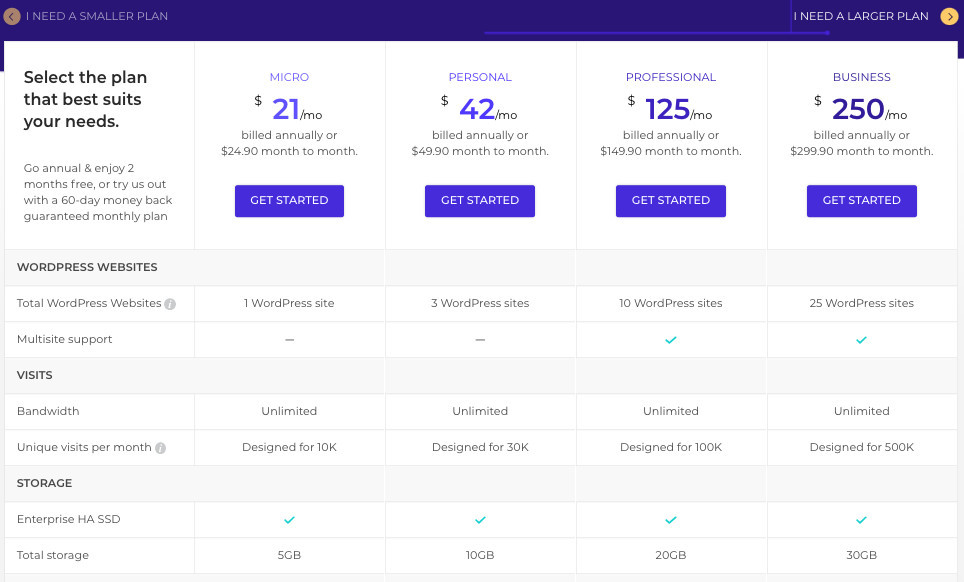 Company Name: PRESSIDIUM® is a registered trademark of TECHIOLIMITED
Pressidium WordPress Review
Pressidium's vision statement is "…to design and perfect an industry-leading managed hosting service for our platform – WordPress. The company appears to listen to what the market needs and is providing fast, reliable service around the clock. Similar to the other WordPress hosting sites, Email is not provided as a service.
Key Features:
High Availability Load Balanced Architecture
Staging Sites
Automatic Scalability
Instant Backups
Full Server Management and DevOps
Offsite Backups
Managed WordPress and WP Core Auto-updates
Free SSL
Managed Web Application Firewall (WAF)
SFTP
Malware and Bot Protection
Global Enterprise CDN
Enterprise HA SSD Storage
Easy to Use User Dashboard
How to set up your Pressidium WordPress site
After you have selected a plan and paid for it, you will log into your dashboard and click "New."
A form will pop up and you will need to fill out the name of the website, a username along with a password, and your email address. Click "Create Website."
You can watch the progress of the install by hovering the mouse over the progress graph on the left side of the screen, but its probably a good time to stretch your legs and grab a coffee or tea.
Once the install is complete, you will receive an email and there will be a new website in your account.
Initially, your website will be a subdomain of onpressidium.com and you will have full access to it and could direct people to that site as it stands. However, if you are running a business or wanting your site to have "authority" you are going to want to purchase a domain from an external vendor.
You will need to enter Pressidium's domain name information int the DNS records sections where you purchased your domain.
In the Pressidium dashboard, go ahead and click on "Manage Website", it should be on the right-hand side of where your install shows up.
Click on the "Domains" tab and then "Add Domain."
The "Domain Management Wizard" will now take you through the final steps.
Type of Web hosting
Pressidium has WordPress Website plans that go from $21/month with the Micro Plan up to $500/month with the Business Plus plan. There are also Enterprise plans starting at $790/month, but you'll need to request a quote from their website.
What Pressidium hosting offers
Support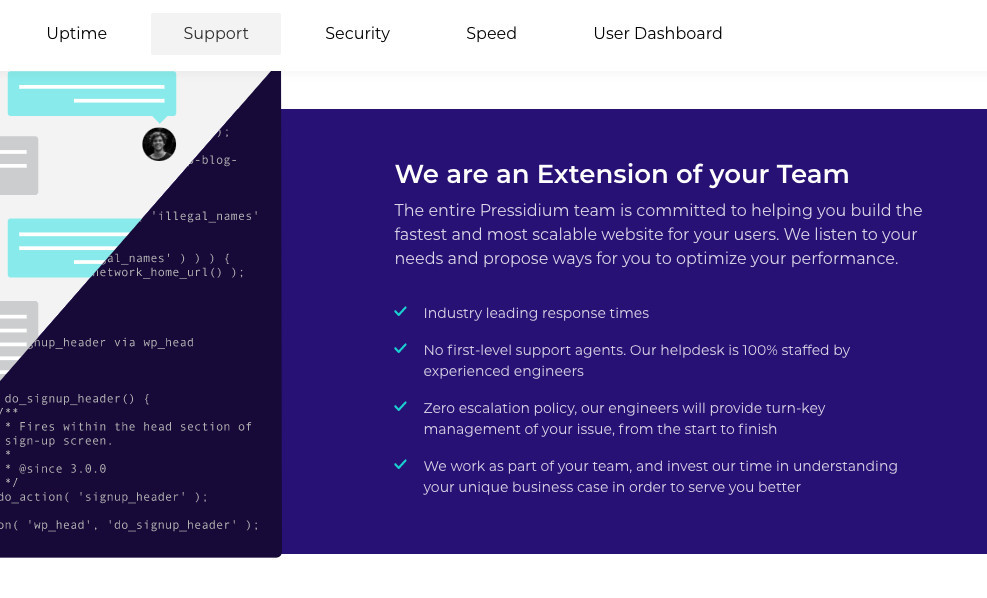 Pressidium support consists of experienced engineers to work with you and help you from start to finish. There is a knowledge base that has some articles available and FAQs. Support is available around the clock.
If you click the "Get support" at the bottom of the page it will open up your email client and you can send an email to support.
Server OS
As Linux appears to be the industry standard for WordPress hosting servers, I'm going to take this section out of all of my reviews, so this is a placeholder while I decide if something else should replace it.
Emails
Email is not available at Pressidium, it is up to you to choose and use an Email service provider. Gmail is probably the easiest to use and almost everyone already has a Gmail account; however, it may not be the best solution. I am currently looking into what other alternatives that are available.
Bandwidth Limits
There are no bandwidth limits with Pressidium; all plans have unlimited bandwidth.
Data (Visits per month)
Pressidium offers 10K visitors per month with the Micro plan and up to 1M visitors per month with the Business Plus plan.
What is the storage limit?
With Pressidium the total storage starts with 5 GB and goes up to 40 GB.
Uptime (SLA)
According to Pressidium's SLA they will provide 99.95% uptime calculated on a calendar month basis. Credit is received in the terms of 5% of monthly fee for each hour that they fail to meet the monthly SLA. See details under their Service Level Agreement page.
Backend Managed and unmanaged.
Pressidium runs the entire backend; servers, firewalls, load balancers, offsite backups, and WordPress upgrades, as well.
Tools and training
Some of the tools available are PHPMyAdmin for MySQL database management, one-click deployment from a staging site, log viewing application, a knowledge base, usage statistics, SFTP user management, website migration wizard, website cloning and one-click billing transfer among others.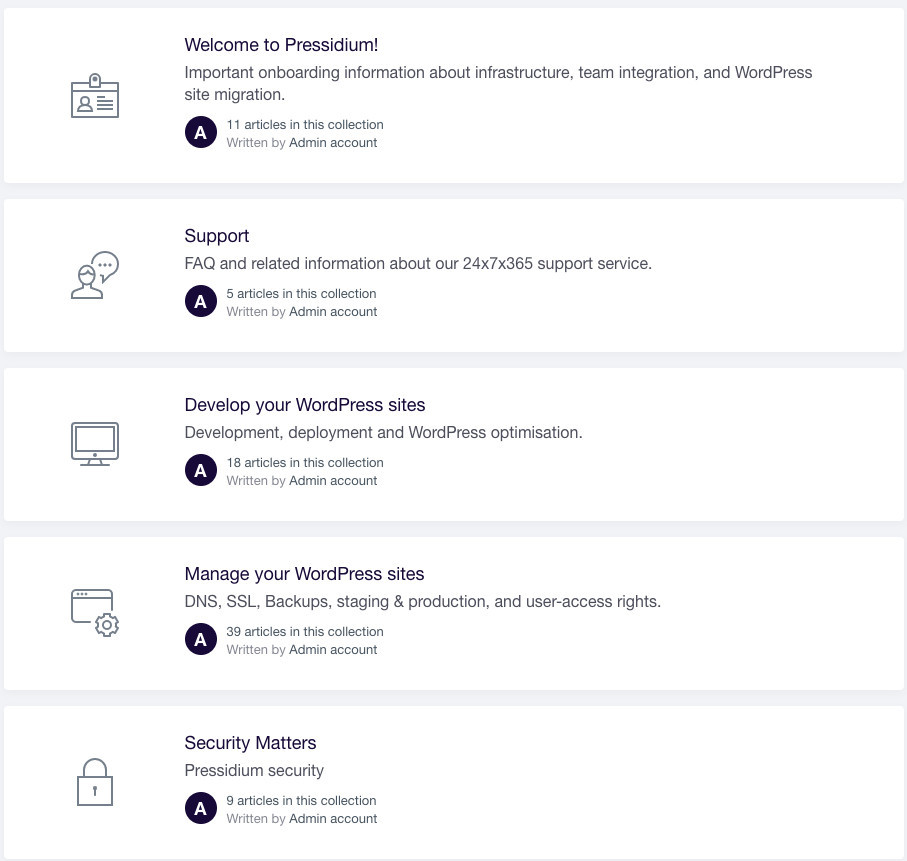 Pros and cons
Pros
24/7 Support by experienced staff
Unlimited Bandwidth
Free SSL
Staging Environment
Free Migrations
Cons
Final Verdict
This service seems to be similar to the other WordPress hosting sites we've been reviewing; however, this site also lets you see the cost of even larger upgraded plans without having to ask for a quote. I like that they have load balanced server clusters and 24/7 expert support even with the smallest plan.
I guess the only downside is the lack of Email service, but I'm finding that across the board with these WordPress hosting only sites.
Pressidium® Platform – Managed WordPress Hosting – Speed, Security and Reliability like never before! Join Today!
---
There you have it ladies and gentlemen, a review of Rocket.net WordPress hosting; written by me.
If you don't have the time to write your own articles on your WordPress site, I would suggest looking into
Here is my article on How to Build a Website Easy – In Less Than 5 Minutes
and here is a comparison of my favorite webhosting provider against Pressidium: