Name: Wealthy Affiliate
Website: www.WealthyAffiliate.com
Price: Starter Membership, $0 (Join Here)
Price: Premium Membership, $49/month OR $495/year (Join Here)
Owners: Kyle & Carson
Overall Rank: 98 out of 100
Who it's for: Newbie – Expert
I got carried away with other projects this past year so I did not hardly accomplish anything that I wanted to in the affiliate marketing arena. Now that I have settled down and back to taking affiliate marketing seriously I thought the first thing I should do is write a new Wealthy Affiliate Review 2021 – Affiliate Marketing for Beginners.
I will share with you more experiences I have had with this website and what I have learned about chasing too many rabbits at the same time in affiliate marketing. Even though I have not been very active on my websites I can now see the potential that they hold if I just put in more effort.
As a matter of fact, I recently moved all of my old websites off of the web hosting service that I have used since the early 2000s over to Wealthy Affiliate. The move wasn't painless; however, on my key sites I did not lose any data and only suffered a loss of traffic for a couple of days. I will show you that up ahead.
One thing that has not changed is that Wealthy Affiliate (WA) allows you to create, manage, and grow your business online and is an all-inclusive affiliate marketing platform and that is one of the reasons I have completely moved off of my old web hosting service and onto WA.
We will cover the following topics below: Training, Websites, Live Events, Research, Live Chat, and the Help Center.
Training
When you first arrive at WA, you are given two tracks you can take for learning the first step you need to take in building a website. Affiliate Bootcamp and Online Certification Training are the two tracks.
Affiliate Bootcamp shows you how to build a website with a focus on earnings through affiliate marketing. You are doing product reviews and comparisons where you drive traffic to your affiliated products or services.
Online Entrepreneur Certification shows you how to build a website that focuses on a specific niche that brings in traffic related to that niche where you then setup up pages offering products to that niche market. Your site becomes an expert in that niche providing all sorts of information about that niche so it ranks high in google searches and brings in a high volume of traffic.
Affiliate Bootcamp – includes 7 phases with 10 lessons in each phase – each lesson has from 2-5 tasks to do and these are easy enough to keep you moving down the road to success one step at a time
Getting Your Business Rolling – Starts right at the beginning without assuming you have any prior knowledge. Create your first website, learn about wordpress and see how the back end functions, learn about SEO and building a template for your writing, see how using WA's native search process will help with ranking in the major search engines, create your first affiliate review. (These 1st ten lessons in "Getting Your Business Rolling" are part of the free training that is offered when you first register.) As you can see I have finished Phase 1 at the time I wrote this article.

Content, Keywords, and Conversions – Teaches you how to write to your audience, how to create quality content, what visual mistakes to avoid, how to use affiliate links effectively, and write another review for your website. This phase of training I have also completed.

Giving Your Site Social Value – Shows you how to use social media plugins on your website, what social network to use and not to use, how to effectively share your content, how to create a website that Google will like, and how you can benefit monetarily by giving back to WA through training and reviews. I just finished Phase 3 before updating this article.

Get Visual, Get Aesthetic, Get a Brand Through Media – You learn how to add graphics to your posts, how to use Pinterest to your advantage, how to make web pages the convert. I'm working Phase 4 now, and in the first lesson we add more value to our Wealthy Affiliate Review and that is what I'm doing right at this moment.

Knowing Your Audiences and Catapulting Your Referrals – Goes through how to understand your viewers so you can convert a visitor to a referral, how to use YouTube videos to gain advantage.

Bing, Yahoo & the Power of PPC – Gives you a way to leverage the other 30% of search engines, shows you the steps for creating ads, and how to track referrals.

How to Scale a Successful PPC Campaign – You will be shown how to set up a Pay Per Click Campaign in detail.

Online Entrepreneur Certification – includes 5 phases with 10 lessons in each phase – each lesson has from 2-5 tasks to do and these are small enough to keep you moving down the road to success, step by step
Getting Started – Learn how to pick your own niche, build a website, optimize it with WordPress, learn about keyword research using WA native tools, begin the work toward making money online. Because I also have a niche site I have partially completed this training, too.

Building Your Own Traffic Producing Website – See how to generate traffic to your site at no cost to you, setup your domain and email, get better at using WordPress through practice, create content targeting affiliate programs. I'm seeing some results in my niche site, but I want to boost my affiliate marketing site so my focus of effort is over there now. My niche site is about all thing related to folding bikes.

Making Money! – Learn about the Customer Purchase Lifecycle and how you can use it to your advantage, learn about many more affiliate programs that you can use with your niche, see how to use affiliate links with images and banners, set it up so you can get industry news daily that is related to your niche.

Mastering Social Engagement – Post to social media platforms like Facebook, Twitter, and Pinterest effectively.

Achieving Maximum Success through Content Creation – develop the content writing habits that you will need to continue with this business model through to successful business accomplishment and beyond.

My Training Activity – This is a listing of any training that you have taken and makes it easier to find training that you wanted to revisit. It is also where you can add your training.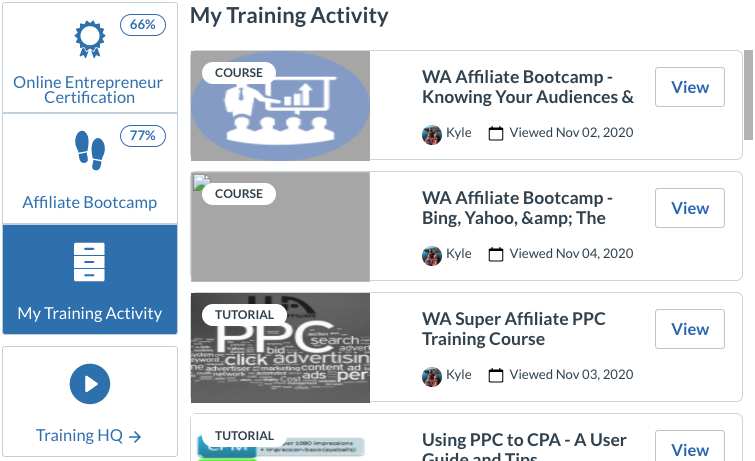 Training HQ – Here you can search for any training in the form of a classroom, online training or tutorial. I really should tap into this once I've gotten my sites past the basic building blocks because there is a lot of useful information here. If you look closely, you will see there are lots of training videos and courses that are available to you.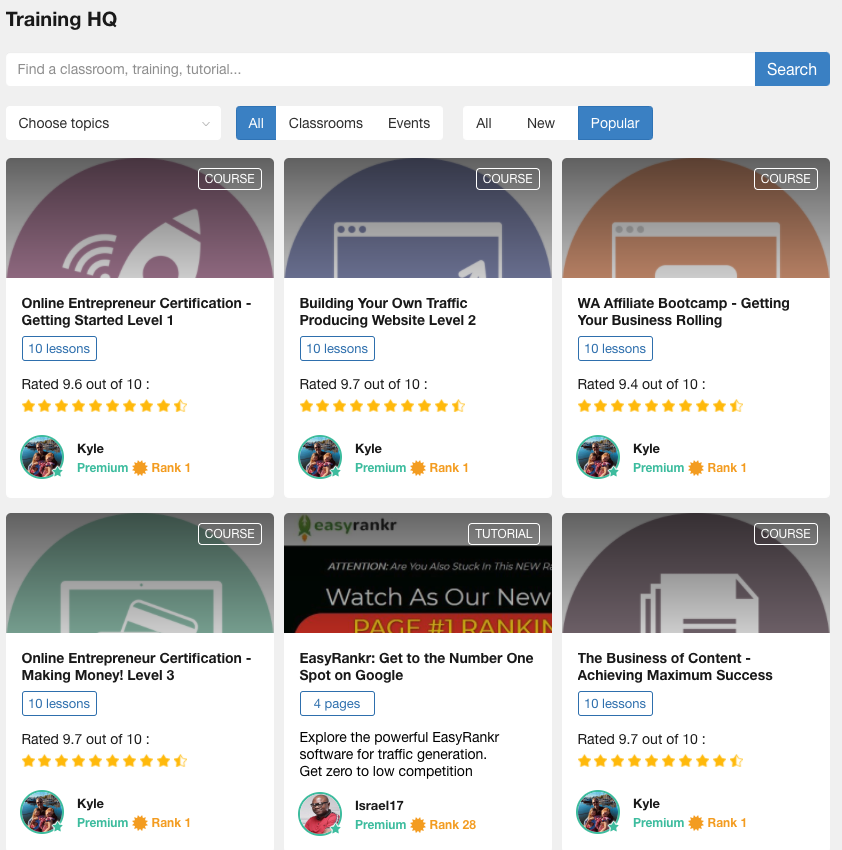 Classrooms – The training here is grouped by subject but you can also perform a search for the training. The subjects are broken into:

WA Affiliate Program
Website Development & Programming
The Wealthy Affiliate Platform
Keyword, Niche & Market Research
Social Engagement & Marketing
Email Marketing
SEO
Local Marketing
PPC Marketing
Video Marketing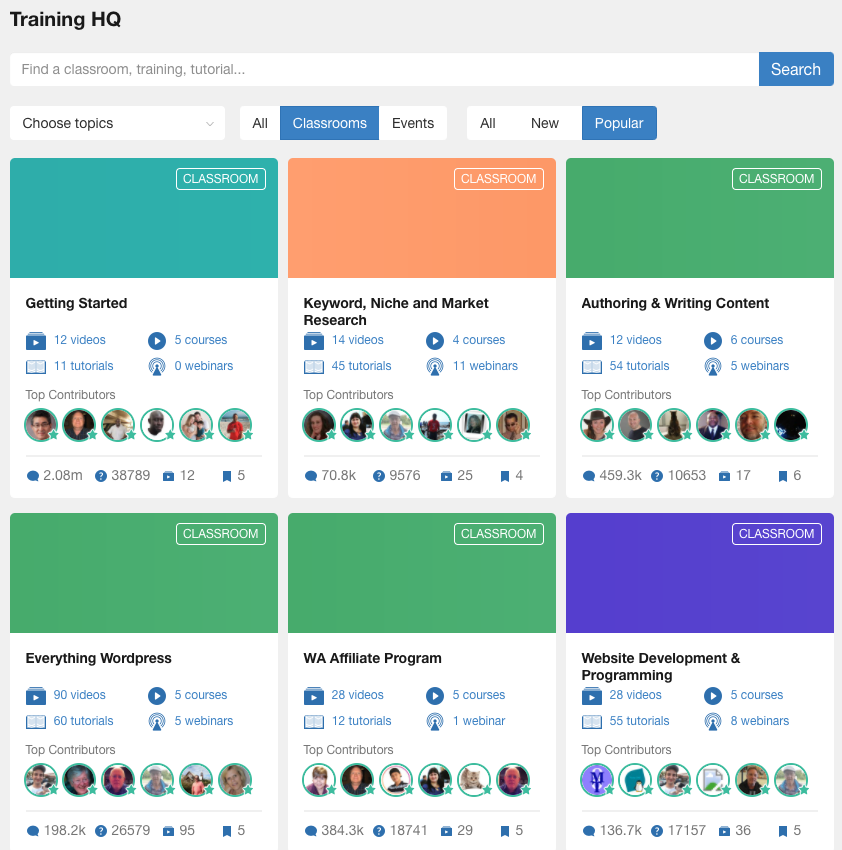 Websites
Site Manager – This gives you access to all of your websites and a dashboard that shows your site(s) health. From here you can log into your websites, check on site comments, site feedback, move from a temporary domain to a permanent domain, and look at site details. This shows where I am at this point in time on this website. You see I have published 18 posts and have 62 approved comments. I've been indexed by Google and am running WordPress 5.5.1.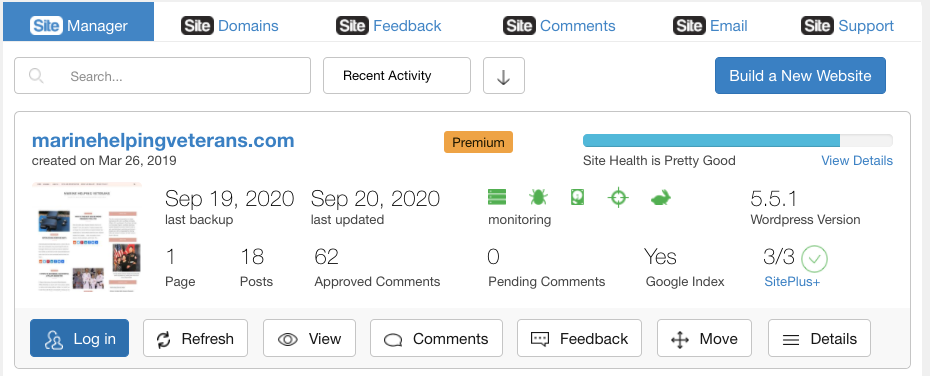 Site Builder – You build your initial website here on either a free domain, a domain that you own, or you can register a domain. In less than 5 minutes you'll have your site up and running. I have an article that shows you exactly how to get that website built at "How to Build a Website Easy".
Site Domains – From here you can find, register, and manage your domains.
Site Content – This is unique to WA and I really like it. I can already have templates setup so that I can choose a template based on what my article will be and already have a shell for me to follow. This way my product reviews or niche content posts are consistent from one to the next and it saves me from having to manually post a template into each post before I start. It is also convenient because once I'm finished writing my article, like this one, I can simply publish it to any of the websites that I manage with a click of a button.  As you can see at this point in time I have written up to 65,000 words on my various websites with 41 articles published. How's that for convenience?

Site Comments – Here you can have other WA members give relevant comments on the posts that you publish. It is a pay it forward service in that you first comment on two other WA members and then you earn credit to ask for someone to comment on yours. You can literally earn money doing this, if you like commenting on others posts and helping make their websites more legitimate. This also helps bring traffic to your site and Google likes that.

Site Feedback – Here again is a pay it forward service in that to request feedback you must first earn credits by offering feedback.

Site Support – This is where you put in your trouble tickets to resolve or answer any problems or questions that you have. Generally speaking, this is where you fix problems you may be having with email, security certs, logging into your websites and things like that. I have had great response time and resolutions to any problems that have come up so far and I am happy with the Site Support service.
Live Events
In one word, live Webinars. You can look at upcoming, past and events that you are subscribed to be in on the calendar. Unfortunately for me the weekly live webinar takes place at 0200 here in Germany. However, I can always play it back the next day as they are all archived. These events are usually all 1-hour long.
Research
Right at the very top of these selections is a Keyword search bar, I sometimes forget this when all I wanted to do is look up one word. If that's the case I don't need to go down through the below items to do that. If you'd like to create an account on Jaaxy, click the banner below:
Site Rank – You can track historical rankings and monitor your website authority here. For example, if I search for "how to fold your brompton bike" we will see I'm ranked 6th on the 1st page of Google and 4th on the 1st page of Yahoo at this time. This is a handy tool for seeing which pages of yours have made it to the first page of the search engines and also to have a look at keywords you may want to try and see what is your competition with those keywords.

My Keyword Lists – This part of Jaaxy allows you to save keywords when you are searching for your next article(s) to write and have them in one place. You can keep more than one list of keywords so when you are ready to get down to writing you aren't having to do research between articles. When the pen is flowing you want to keep that momentum.
Search Analysis – With Search Analysis you can search your keywords and now it will show the top 10 hits but also show details like Word Count, Links On Site, Back Links, Alexa Rank and whether the site uses Adsense. Using the same search as above it shows my post having 708 words, 39 links on site, 89,000 back links (what?), no Alexa rank and no Adsense. This is shown for Google, Bing, and Yahoo.
Alphabet Soup – Now you don't have to manually use Google to type things like "folding bike a", "folding bike b", etc. to see what other terms are being searched. Simply type "folding bike" and within 10 seconds you will have an A-Z, 0-9 listing of search terms that go with "folding bike". Took about a time saver!!! Plus, if you find one you like you can click on search for that term and it will automatically search and take you to the Keyword listing where you can further define your best keywords to use. For more information on this useful tool, check out "What is the Best SEO Keyword Research Tool For"!
Brainstorm HQ – The place to find trending, popular and lucrative ideas. I haven't used this one much, so we need to play with it some more so we can tell you how to use it later.
Affiliate Programs – Appears to be limited to four affiliate programs at this time; Commission Junction, Link Share, Digital River, and Click Bank. I see when I put in "bicycle accessories" six products come up for Link Share, So this is a way to find other affiliate programs that may cover some products that you give information on or write reviews about.

Niche Keyword Lists – Exclusive to WA Premium members and contains your Niche Keyword Lists.
Live Chat
Live Chat is just that, it is a live chat 24/7. You can ask questions, answer questions, say hello, etc.
Help Center
Site Support – covered previously under Websites.
Ask a Question – allows you to type in a question that goes out to the WA community for an answer.
Live Chat – discussed briefly up above.
Private Message – lets you send a private message to another WA member.
Conclusion
Here's the question, is Wealthy Affiliate worth the cost?
I was easily spending over $200/year on my old web hosting service and that only included email. The connections were spotty as I was frequently getting site down notices from my tracking app and they really provided no help unless you actually had a problem.
I'm paying more with WA; however, the value I'm getting as you see up above is way beyond what I was getting before. I've even moved all of my websites off of the old web hosting service and brought them online here. Even doing this review has really motivated me to work harder and get more involved in my business. I had forgotten how much information can be found here and the knowledge and experience that can be found within the community here is profound.
Being a member of Wealthy Affiliate, I am an affiliate and the below links are affiliate links.
If you would like to take WA for a test drive then simply go here and create an account!
To claim your Bonus!!!
Upon joining your FREE Starter Account, I'm going to offer you a bonus if I see you are an action taker and become a PREMIUM member within the first 7 days (that also includes a 59% discount). After you have created your account, I will personally contact you on your profile with a "Hello" and give you more information about Wealthy Affiliate and how to get help from me, as well as, how to get your well-deserved bonus.
We'll see you on the inside!
If you have any questions from what you read up above, feel free to drop a comment and I will get to it shortly.
Thanks and have a great day!!!
Les