Affiliate Marketing is a way to earn money using a website or various social media platforms at little or no cost for you to start. Even with little to no investment in money you can earn money through affiliate marketing.
That means that if you already have a website(s), blog, Facebook account, Twitter account, Instagram account, LinkedIn account, TikTok account or any combination of these then you are already ahead of the ball game.
If you don't have a website, then you can either visit my web page "How to Build a Website Easy" or go to where I host my websites on Wealthy Affiliate and build your own website in less than 5 minutes after you Create a FREE Account.
There on Wealthy Affiliate you will also be able to see how others are being successful at Affiliate Marketing because the community is great about sharing ideas and helping each other out on a daily basis.
Now, we are going to cover the 5 Steps to Becoming a Successful Affiliate Marketer!
Step One:
Create a Bio of Interest on Your Profile Page
In this example, we will use my account on ShareASale.
Because, both of my sites are small and have limited traffic I only put the URLs and basic information that says what the websites are about. However, if you are getting 1,000 or more visitors per month to your site(s), then you should include those statistics. For example, visitors/month, top countries traffic is coming from, age of people visiting the site, etc.
Step Two:
Find Merchants, Products and/or Services to Promote
After creating our Bio on shareasale.com, we next went to look for a merchant that would fit what we are doing on one of our websites. Under Merchant Search they have Programs of the Week. These are new programs that are being shown up front to us as affiliates in shareasale.com.
As you see here, ProsourceFit is offering exercise related items. That is a good fit for this site, MarineHelpingVeterans, because one of the problems that service people run into is gaining weight and getting out of shape now that they are completely on their own to exercise and there is no one to tell them to do it.
Therefore, I will apply to this merchant by clicking the "Join Program" button. And, at the same time start thinking about how best to write an article that would fit their products.
The ProsourceFit Program Agreement page opens.
Confirm our Email address
Check the box to show we have read and agree to their terms
Fill in any promotional methods and marketing plans for their products
Click Join This Program
Now, we can see that our application is pending and we can continue to look for more merchants, if we want.
As part of the process with this vendor I received an email asking for further information.
Seeing this, I responded as quickly as I could with my information you'll see in my email below:
As you can see in the above email I provided my website URL again, let them know where my "Legal Info" widget was located on my websites and how I planned on advertising their products with examples from my www.foldingbiking.com website.
They replied shortly after that with more specific instructions on how they wanted me to label my web page so that we complied with FTC requirements when we can earn commissions from advertising their products. Here is their response below:
That is something else you will find on the ShareASale website is training and guidance when it comes to disclosing that you earn money through people's purchases. They even have a video from the FTC! So, this is serious business and should not be ignored, folks!
The next email was a confirmation that I had been accepted into their program with additional instructions.
You can also look to the right of the Programs of the Week and see the Trending Programs, as seen below:
You will see above my Top Merchants, only ones I've been accepted to at the moment. You will also see below them where a list of Trending Merchants starts. If you want to join one of them you click the JOIN MERCHANT link on the right.
The colored icons on top are for five different categories of merchants. You can search by clicking on each category, from left to right: Jewelry, Automotive, Household, Clothing, and Education.
A couple of other nice features that will benefit you when you create an account on ShareASale is that they have a Blog and Future Events area on the site, as seen below:
What a great way to be reminded of things that are coming up! We get so busy writing articles and keeping up with day-to-day tasks we sometimes forget about trending topics happening now and in the near future.
In my case Veteran's Day could have a huge impact on my blog and any advertising I choose to do at that time.
Step Three:
Promote Your Products
Here is where your social media accounts come to play. As an example, prior to me writing this article I actually did a YouTube video on my Financial Independence Now channel titled, Affiliate Marketing 5 Steps. And now, I am repurposing that content to write this blog post. And I will repurpose this blog post and share out to my Twitter, Instagram, Facebook, LinkedIn, and Pinterest Accounts.
One example of promoting my products here has been asking you to check out ShareASale or Create an Account at ShareASale so you can take advantage of what they have to offer.
The other example was my asking you to Create a FREE account on Wealthy Affiliate where you can build your first website in less than 5 minutes. I actually made a video of that and it took about 3 minutes. 🙂
See how easy this is? And other than paying for web hosting, which is better than using free web hosting sites it hasn't cost me anything to promote this products.
That's the other thing about most merchants. They will already have banners created for you to use as an affiliate marketer. For example, here is one of ShareASales's banners: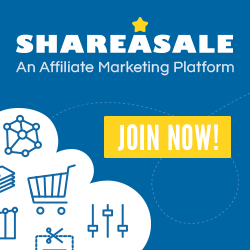 And, here is one of Wealthy Affiliate's Banners:
Step Four:
Use ShareASale's Promotional Tools
1) Make-A-Page: this tool allows you to put products in tables within your web page as seen below:
You then can copy the HTML script for the page that you created and import it into your page on your website.
2) Product Showcase: A picture is worth a thousand words:
3) Gift Cards, Coupons, & Deals:
As you can see above, by searching in the Deals and Coupons Database you can see what your merchants are offering as coupons and deals. You will also see the start and end dates for these deals and either be able to view them, as you see up above or request to join their program if you aren't already a member.
The good thing about all of this is that once you've become a member this information is available in video format, as well.
Step Five:
Track Your Performance
This allows you to see what products are working what products aren't working, when you are getting your sales, etc.
Well, there you have it folks, the 5 Steps to Becoming a Successful Affiliate Marketer. In the example we used above was with shareasale.com other affiliate marketing vendors but I find that the process here is very simple, the instructions are well written and videos easy to follow.
I highly recommend it, not only because I am an affiliate but also because I want to see you succeed, as well.
If you have any questions or comments, please don't hesitate to leave them below.