Interlocking Exercise Mats
Right up front, I want to tell you that I earn commissions if you shop through the links on this page.
What do you do when you want to protect the floors where you live when you are using solid steel dumb bells?
How can you more comfortably workout when you have cement or hard oak floors and you want to do exercises on your back?
Interlocking exercise mats are the answer to the problem!
Sure during nice weather you can have your exercise area setup outside on a patio, in the driveway, or in the yard. I suppose you could even set it up in the basement or the garage. But you still need to protect the concrete you are working on and have a place where you can comfortably lay on your stomach or back and do core exercises.
And, in my case above, the patio consists of ceramic tile. I sure don't want to damage the tiles when I'm working out. I don't want to be worried about where I'm putting the weights and doing 10x reps and my arms are exhausted.
Something else they are good for is noise reduction. In other words, when placing 25 or 30 pounds of steel on the floor it is going to make some noise, right? Well, with the mats between the dumb bells and the floor it reduces that significantly.
One of the things I used the mats for, since I had a couple of extras was to protect my floors from the oak wine barrels I bought for my mini-bar. Not only do they protect the floor, but they are easy to slide so I can move them around anywhere I want in the room.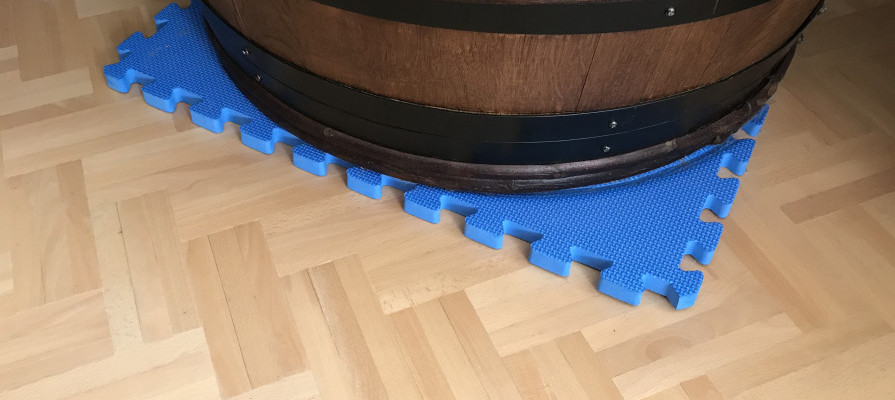 Now, let's take a closer look at the mats!
The mats come in two different heights, 3/4″ and 1″ thick. There are several options for the amount of square feet you want to cover. What's nice about the interlocking is the flooring doesn't have to be square or rectangular, it could also be in an "L" shape.
Each mat is 24″ x 24″ square. The set also comes with end borders so that the ends can have straight lines rather than the rough interlocking that you see in the picture above.
They are super easy to put together and take apart, so if you want to do a quick core exercise floor workout you can throw them together, do your workout and take them apart again and stack them up in a closet.
They come in black, blue, or gray.
Where can i find interlocking exercise mats?
You might want to go direct to the source of the product below.

Exercise Puzzle Mat 1 inch
from: ProsourceFit